Tilgore Kraut - January 20, 2009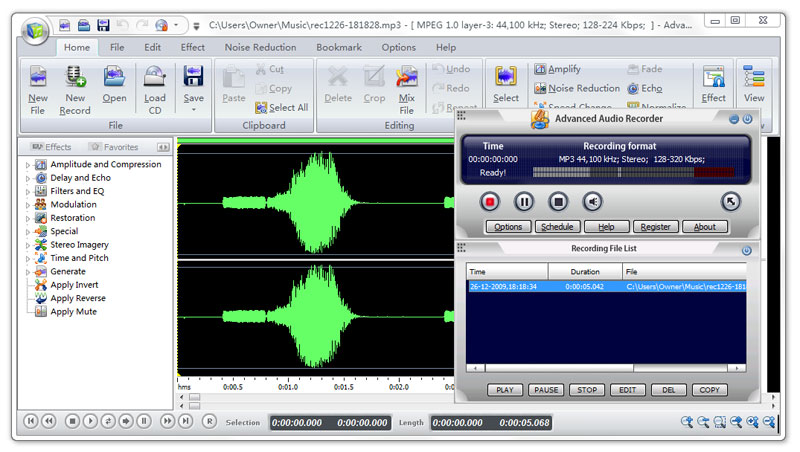 Advanced Audio Recorder can record any sound passing through any line of your sound card. For example, you can record sound being played back by an external program, sound from a microphone, an external LP, cassette, CD/DVD player, AM/FM. etc.
Pros: Advanced Audio Recorder records any audio passing through the sound card of the system. That includes not only the line-in inputs such microphone or external CD player/music system but any program/games on the computer that plays audio through the sound card. So if you have a stack of vinyl records, old/new CDs that needs to be ripped or a DVD movie whose soundtrack you absolutely love. Cassettes or whatever that needs to be converted to MP3 or some other digital format is fodder for this program.
WAV, MP3, OGG or WMA are the formats it can handle easily. Recording is always with the CD quality default. Settings are available for changing sampling frequency and sample size in bits to have a more compressed file size if you need to. Obviously the quality would not be as good. Automatic start, stop, pause and restart are possible. You are able to set up hot key based controls and schedule recording that can be stopped automatically and the machine shut down. This enables completely un attended sessions. Cut, copy, paste and trim are the editing features that you can use to get a finished product you want. Audio waveform displays help you do these easily visually. High pass. Low pass and notch filtering can help you clean up any noise in the track. Overall the user interface is simple and easy to use too. A built in CD burner lets you create music discs with your own selection of music.
Cons: One should be aware of the copyright issue. One needs to understand that creating copies for own use from material that (CD etc) that you already own is the only situation that is legal.
This entry was posted on Tuesday, January 20th, 2009 at 6:25 am and is filed under Main, Multimedia, Music, Shareware, Voice. You can follow any responses to this entry through the RSS 2.0 feed. You can skip to the end and leave a response. Pinging is currently not allowed.