Tilgore Kraut - March 17, 2009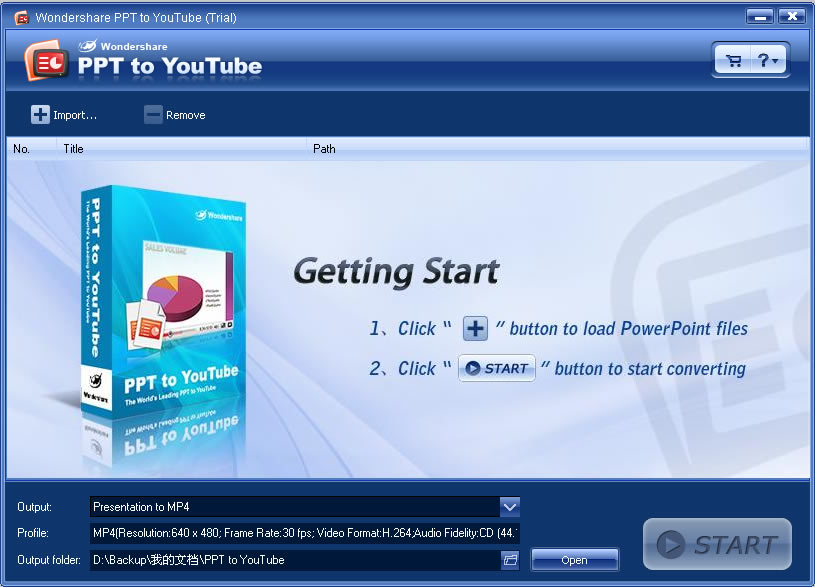 Wondershare PPT to YouTube is a professional PowerPoint to YouTube video converter. It can convert PowerPoint presentations to YouTube MP4, WMV video formats with all the elements in the original PowerPoint retained.
Features: Wondershare PPT to YouTube converts PowerPoint slideshows into video. This is necessary as YouTube accepts only WMV or MP4 formats. PowerPoint is the most popular format for creating presentations contents. YouTube is one of the best ways to share contents with others. This application marries to two so that promotional material created in PowerPoint presentations can be widely distributed. It thus becomes convenient and easy to create video slideshow with PowerPoint and this converter. Distribute through YouTube your creation to the wide open world audience. Business promotion via the YouTube is now enabled through this package. It is likely to yield better results than direct e-mail campaigns.
While converting the slideshows to the WMV or MP4 videos you can retain animations, transitions, sounds and movie clips. The application has batch processing facilities enabling conversion of many files at a time, up to 12 PowerPoint files can be converted in a batch. For converting a slide show import the file into the application. Set the output format you want and then start the process by clicking on the convert button. Convert to MPEG4 DivX or Xvid formats, 640×480 resolution, MP3 audio and 30 FPS for best results. Resulting video should be less than 10 minutes in duration. MP4 video can work with Smartphones and other handheld devices. WMV works with Zune portable media player.
Overall: Nice and easy converter for uploading on YouTube a comprehensive audience.
This entry was posted on Tuesday, March 17th, 2009 at 3:29 am and is filed under Business, Shareware, Video. You can follow any responses to this entry through the RSS 2.0 feed. You can skip to the end and leave a response. Pinging is currently not allowed.