O. James Samson - November 25, 2010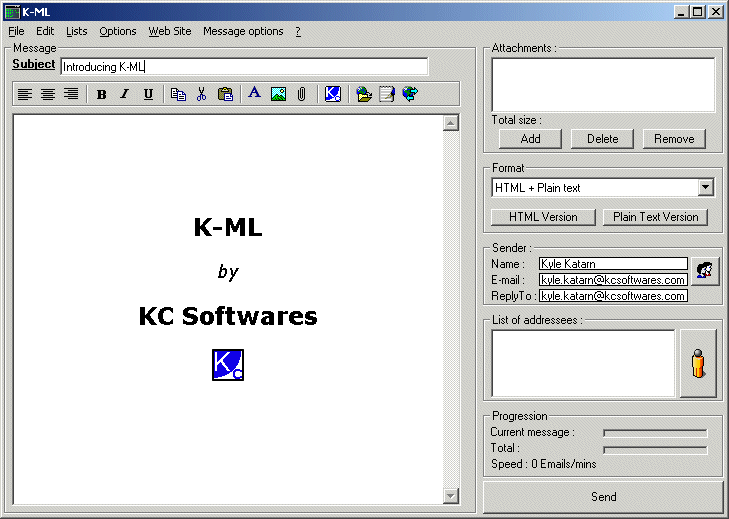 K-ML 4.0 is a professional mailing lists or newsletter manager; and is one of the easiest applications that can be used to manage multiple lists contacts, design and send customized electronic mails to each of the contacts. K-ML allows HTML messages, which may also include sound, multiple attachments, priority levels, and embedded images. Version 4.0 is also available in a number of other languages, including English, Hungarian, Traditional Chinese, Bulgarian, Serbian, Galician, Swedish, French, Hebrew, Turkish, Italian, German, Spanish, Danish, Slovenian, Latvian, Finnish, Indonesian, Catalan, Czech, and many more. K-ML 4.0 can also be easily integrated within already existing Website with an online subscription/unsubscription form.
K-ML 4.0 has a number of features that include the following: customizable messages; SMTP authentication; easy website integration; history record; unlimited number of subscribers, unlimited number of mailing lists; generate a web page for subscription/unsubscription; powerful professional double opt-in script; support for multiple accounts; and many more.
Users should note that the feature that allows for web integration requires PHP to be installed on the web server to work. Equally important is the fact that users should also know that the free demonstration version is limited to only 30 electronic mails sent in each session.
K-ML 4.0 is a shareware, and can be purchased at $33.95 per copy.
Want to check it out? Visit KcSoftwares.
This entry was posted on Thursday, November 25th, 2010 at 11:56 am and is filed under Main. You can follow any responses to this entry through the RSS 2.0 feed. You can skip to the end and leave a response. Pinging is currently not allowed.