Tilgore Kraut - December 21, 2010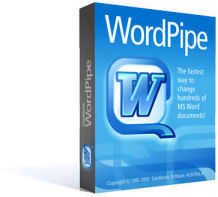 Working on Microsoft Word documents is no difficult task for most of us working on this functionality as we are already aware of its tools and functions for creating and writing varied documents. Any professional working in a large scale organization can have several documents that are needed to be worked upon; especially if we talk about work procedures involving extensive documentation and writing such as Law or Writing processes that include loads of writing and printing procedures. Under such situations if a common error is found in the documents that needs change like a contact number or server name change; it is certainly not feasible or practical to manually perform these changes across the documents; hence WordPipe 5.9.7 is a utility that can easily work for replacing content as well as other document functions.
WordPipe 5.9.7 upon launch opens with a neatly organized interface with the main options placed at the top panel and the main screen displaying the tabular form of replacement content and location of the document and matching options along with several tabs situated at the bottom that provide further options to search and edit text. The working of the program is very simple, with drag and drop facility to extract files from Windows Explorer to the program. In addition the facility of adding more than one search and replace phrase or word. The program can be effectually used with thousands of documents and make multiple changes simultaneously that saves time and energy. Furthermore, the application also offers options like hyperlinking and bookmarking along with adding shapes and adding text boxes and offering drop down fields as well.
To sum up, WordPipe definitely works as an enhanced utility that enables the user to perform multifarious procedures across several documents.
This entry was posted on Tuesday, December 21st, 2010 at 9:20 am and is filed under Shareware, Text, Windows. You can follow any responses to this entry through the RSS 2.0 feed. You can skip to the end and leave a response. Pinging is currently not allowed.