O. James Samson - February 28, 2013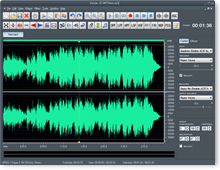 Are you looking for an audio application that supports several popular audio formats and features audio CD burning? Not every program out there provides the kinds of features most people or users want; but a few of them do have some nice user-interfaces that you can use without stress. Dexster might just be one such program considering some of the features that have been included in it by the publisher.
What is Dexster?
Dexster is an audio editor tool for your music production that supports many popular audio formats and features audio CD burning. It provides cool and easy-to-use interface that allow you to edit an audio file visually (Cut, Copy, Delete Select, Delete Silence, Paste, Paste From File, Mix, Mix From File); apply different effects (Amplify, Compressor, Delay, Envelope, Equalizer, Expander, Fade, Flanger, Invert, Normalize, Phaser, Reverb, Reverse, Silence, Stretch, Trim, Vibrato, Chorus, Pitch Shift); Vocal Reduction; Mix Stereo Channels; Insert noise and silence in an audio file.
Dexster supports audio format of uncompressed WAV PCM, compressed WAV (ADPCM, GSM, DSP and others),MP2 (MPEG 1/2 Layer-2), MP3 (MPEG 1/2 Layer-3), VOX (Dialogic ADPCM), WMA (Windows Media Audio 9), RAW audio (PCM, A-LAW, U-LAW), MPC (MusicPack),AVI (audio track), Audio CD, Ogg Vorbis,G.721, G.723, G.726,AIFF (Apple audio format) and AU (UNIX audio format).
Downside
This version is only limited to nine uses, and has a nag screen.
Want to check it out? Visit SoftDivShareware.
This entry was posted on Thursday, February 28th, 2013 at 12:38 pm and is filed under Main. You can follow any responses to this entry through the RSS 2.0 feed. You can skip to the end and leave a response. Pinging is currently not allowed.