O. James Samson - October 18, 2007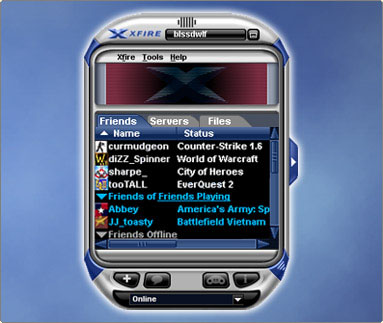 There are so many new instant messaging programs out there today that it is sometimes difficult to see where one program ends and another begins in terms of features. Well, the Xfire 1.82 software is quite different from that simply for the reason that it is quite different from all other instant messenger programs that currently exist. It is not different in the sense that it costs money (it is freeware just like all of the other instant messaging programs), but at the same time it is different because of area of specialty that it happens to cover.
The Xfire program, as many people are now already aware, is an instant messenger for gamers. If your friends happen to be playing games online, then you can find out which games they are playing and where they are playing them. If your friends are playing a specific game at a specific location, you will be able to know that from their Xfire status. You can even join the game that they are playing at that very moment just through a single click of your mouse.   Truly, it is an excellent and pioneering program that allows gamers to enhance their gaming situation to the max.  It even allows them to receive instant messages without interrupting their game play.
More information is available at http://www.xfire.com/
This entry was posted on Thursday, October 18th, 2007 at 6:39 am and is filed under Chat, Developer, Freeware, Internet, Main, Social Software, Windows. You can follow any responses to this entry through the RSS 2.0 feed. You can leave a response, or trackback from your own site.