O. James Samson - August 24, 2007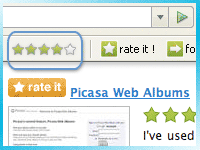 One of the most interesting aspects of the recent internet boom is the emergence of a number of different interactive websites. Collectively referred to as web 2.0, many of these websites require input and active effort from the people that are members of the sites and indeed it is that interactive element that really drives the interest that so many people have in websites like this.
At the core of the web 2.0 revolution is the concept of social networking. The social networking websites have really changed the way that people look at the internet nowadays and many people will tell you right off the bat that this is for the better. But what if you could have a piece of software that acted like a social website no matter what you were doing on the internet? Wouldn't that be absolutely fantastic?
Well, take a look at the RatePoint Toolbar! It is a toolbar that allows you to actually rate every single website that you come across. Then, based on the ratings that you give, you are then connected to websites that the software thinks you will enjoy specifically because of the ratings that you give off. It is a very cool and nifty way of doing business and it can actually help you come across some very amazing websites that you would never have been able to find under different circumstances.
There is actually a version of the Toolbar available for internet explorer users as well and if you are interested in learning more you can head on over to the software's homepage at http://web.ratepoint.com/tools
This entry was posted on Friday, August 24th, 2007 at 9:50 am and is filed under Browsers, FireFox, Freeware, Information Management, Internet, Main, Social Software, Web 2.0, Windows. You can follow any responses to this entry through the RSS 2.0 feed. You can leave a response, or trackback from your own site.