Ciaran Moore - June 26, 2007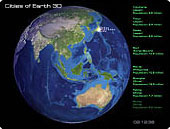 If you've been looking for a good, freeware, rotating Earth screensaver, you've come to the right blog entry! "Cities of Earth Free 3D Screensaver" highlights various cities as it rotates, and it shows various info such as population, etc. in a scrolling column to the right.
You can even add your own city if you want. It's pretty smooth looking and doesn't have any crazy nag screens or anything. You can control the speed and rotation with the cursor keys and zoom in or out with your mousewheel, although this doesn't increase detail, but hey its free and it looks pretty cool! It also claims to use low CPU, so it wont slow down your computer and it contains no adware or spyware, unlike a lot of "free screensavers" these days.
It may not make your world spin round, but it'll make your idle computer look cooler! Sound good to you? You can grab it over here.
This entry was posted on Tuesday, June 26th, 2007 at 8:37 am and is filed under Design, Developer, Freeware, Main, Shell and Desktop, Themes, Windows. You can follow any responses to this entry through the RSS 2.0 feed. You can leave a response, or trackback from your own site.