Tuesday, December 17th, 2013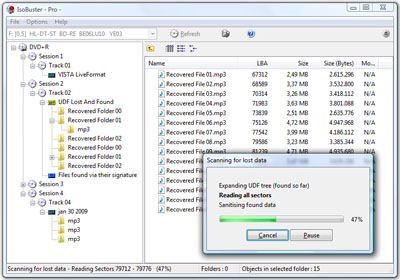 When you download and use a program that has a very responsive publisher, it kind of gladdens your heart. The same goes for any program that has some or all of the features you want in it; and that is why you want to take a look at IsoBuster because it has some likeable features. Find out more about what this lost file rescuer can do for you in this review.
What's IsoBuster?
IsoBuster can rescue lost files from a bad or trashed CD or DVD or a Blu Ray disc (e.g. BD or HD DVD). Save important documents, precious pictures or video from the family, your only system backup, etc.
IsoBuster was originally designed to process and recover files from optical media, but now supports communication with Flash devices, media cards, floppy, Jaz / Zip disks and local hard drives. It features a streamlined, simple user interface that adopts an Explorer-like view, which makes is possible to view the recoverable data more clearly.
IsoBuster can also handle all types of CD / DVD / Blu-Ray you can think of, including High Definition discs. The program is also capable of accessing deleted files from multisession optical media, as well as process data from various virtual image types (NRG, BIN and ISO included).
Want to check it out? Visit ISObuster.