Friday, May 29th, 2015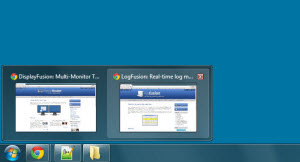 Want to configure hot key combinations for some of your tasks, including moving a window to the centre of a monitor, resizing a window, or spanning a window across all monitors? DisplayFusion is a program that has some of the most amazing features you can think of.
What is DisplayFusion all about?
DisplayFusion will make your dual monitor experience smooth and painless. Advanced multi-monitor wallpaper support, Flickr integration for image searching and fully customizable window management hotkeys are just a sample of the many things DisplayFusion can do. DisplayFusion is also available in many different languages.
DisplayFusion now has some new updates and fixes including the following: addition of 2 new screen savers; updates to existing screen savers; improved Windows 10 compatibility; translation fixes; resolved an issue that caused duplicate context menu entries; and the publisher has also resolved a crashing issue.
DisplayFusion also retains its old features such as: keep your windows easily organized by adding a Taskbar to each of your monitors; easily use stunning wallpaper images from many online sources, or use images from your own collection; take control over your monitors with precise settings, profiles, splitting, and padding for bezel compensation; and many more.
Note that free version of DisplayFusion lacks some very important features. Full version license starts from $25
Want to check it out? Visit: DisplayFusion.com.