Friday, September 30th, 2011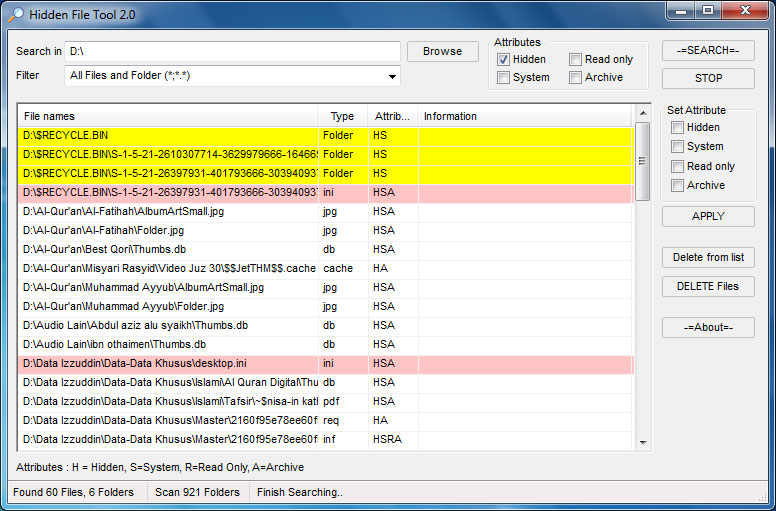 Are you searching for something recorded on your personal computer? Maybe a system file that is not working and needs to be replaced? Windows has its own built-in search utility, but people often find that it is not good for more than the most basic searches.
Hidden File Tool is a simple program with which you can search for hidden files as well as many different file types. It is not much to look at, but it does a good job of finding files that might otherwise be inaccessible. The program's interface is plain and functional, with all of its features displayed on one screen. From drop-down menus you select the drive you want to search and the file type; options include images, Microsoft Office files, and applications and scripts, or the program can search all files or all files and folders. Check boxes let you select hidden, system, archive, or read-only files.
Once you have entered your search criteria, click the Search button, and Hidden File Tool will do its thing. The results are displayed in a grid with sortable headers, and you can delete files from within the program. There is no Help file, but this is no big deal; Hidden File Tool's interface is clear. The program's portable format means that you can take it with you on a USB drive – a good thing since it could be a very useful tool in your troubleshooting tool kit.
Overall Hidden File Tool is very easy to use and does a good, and reasonably quick, job of finding the files you are looking for. This program is free and supported by Windows 98 / Me / 2000 / XP / 2003 / Vista / Server 2008 / 7.
Check it out at Hidden File Tool.