Tuesday, July 31st, 2012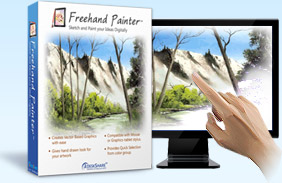 Freehand Painter is a freeware that helps you create vector-based impressive paintings with brilliant effects on your computer. Its time to put your brushes, paints and canvas aside. Create eye-popping web graphics, design very attractive logos with this simple and adjustable brush tool. You could adjust the size of the brush tool to give your painting such a professional look. You could choose from its preset color palette or create your own unique colors.
It has a simple user interface that helps you keep everything at your fingertips. Its stroke eraser helps you to erase the entire stroke instead of erasing your painting pixel by pixel. Its layer functionality allows you to create a painting with many independent layers.
Some of the key features of this freeware are: it helps you to create vector based graphics very easily, save your painting/graphics into standard ISF format, export your finished work as PNG, JPG or GIF file. You can also create and view your work in full screen mode. You could adjust the transparency level for color variations. Should you make a mistake, its Undo and Redo functions helps to correct it. Your entire workspace can be cleared by just a single click.  With this software, you'll be shocked how easy it is to create good graphics without spending hours on designing.
To learn more about this freeware, please visit Deskshare.com.