Monday, January 31st, 2011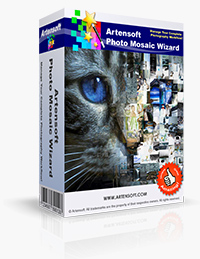 Artensoft Photo Mosaic Wizard allows you to design true photo mosaic images out of ordinary photos in probably a single click or two. This innovative photo software has wonderful features to help you produce great mosaics out of ordinary photos. Artensoft Photo Mosaic Wizard does all the complex math; taking the load off your shoulder in order to fit tiles so that they form the most realistic mosaic without resorting to tricks such as color overlays. This version runs on the .NET Framework 2.0+, and comes with an uninstaller. Some of its latest changes and bug fixes included; addition of a feature that enables it check for updates addition of a feature that allows you exclude selected cell-images from the database, and some other minor bug fixes.
The program is very light, and does not consume much space on your system. You can use Artensoft Photo Mosaic Wizard to build your own images in the shortest possible time. You can enjoy different features that enables you have fun with friends and family, produce perfect photo gifts, and make wonderful pictures in just a few easy steps. You can also build or produce exclusive collages, as well as building photo montages that look great even from a distance.
This is not doubt a great shareware application; the price may be a bit high, but it is worth it.
Want to check it out? Visit Artensoft.