Monday, October 25th, 2010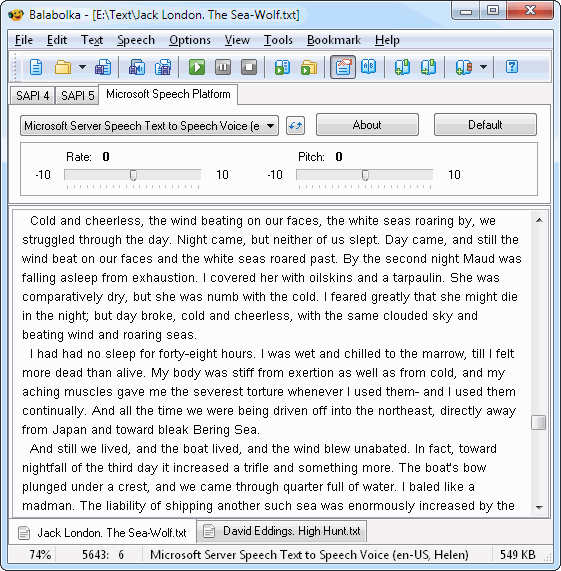 Balabolka is a TTS (Text-To-Speech) program. All computer related voices installed on your computer are available to Balabolka. The on-screen text can be saved as a WAV, MP3, WMA, MP4 or OGG file. Balabolka is capable of reading; the clipboard content, view the text from PDF, DOC, FB2, RTF, EPUB, HTML, and ODT files, customize font and background colors, control reading from the system tray or by the global hotkeys.  Users can alter a voice's parameter, which include rate and pitch, apply a special substitution list to improve the quality of the voice's articulation. A feature like this is useful when a user wants to change the spelling word. When an audio file is played with installed players on your system or maybe on a modern digital audio player, the text is displayed synchronously.
Balabolka 2.0.0.480 Beta is available in these languages; English, Bulgarian, French, Dutch, German, Russian, Romanian, Ukrainian, Spanish, Korean, Polish, Italian, Czech, Portuguese (Brazil) and Portuguese (Portugal). The program also supports skins that allow you to customize the appearance of your Windows to suit your choice.
Users may have to check for a commercial Text-To-Speech program if they are not impressed with this program since it is a freeware.
Want to check it out? Visit Balabolka.