Tuesday, April 22nd, 2008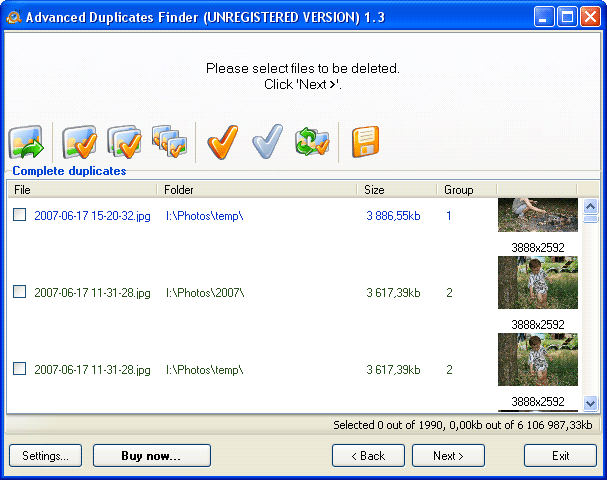 As you keep working on our computers we start to get loads of files collected on it with many of them being duplicates of each other. While working with so many duplicate files that get stored at your PC it becomes a Herculean effort to find them all manually. But now you can ease your work with the help of Advanced Duplicates Finder 1.6. It provides you with wizard style interface that requires you to a simple follow step by step process. The software searches, identifies and deletes the void and duplicate files from the hard drive or nearly any other media. It also finds the MP3 files that contain similar tags and images or those that carry similar size and names.
Advanced Duplicates Finder 1.6 on launch displays a set of easy features that can be operated even by a novice. The wizard interface requires you to first select 'Find duplicate files', 'Open the list of duplicates from a file' and 'Restore files moved to a separate folder earlier'. Set the criteria to carry out search for the duplicate files. Enable searching the complete duplicates, similar images, MP3/OGG/WMA files with similar tags, etc. Set the filter features like Mask, Size, Date and Attributes. You can even have the filters disabled i\f required. Move on to the 'Next' step and the program shows the folder and drives on your PC that you can mark to select them for searching the duplicate files. You can also enable searching ZIP and ZAR files. Click 'Next' and the programs start the process for searching the duplicate files. When the program is finished with the search then the duplicates files are shown listed on the screen. Mark the files the duplicate files found by surfing through them. The selected files can be Deleted, Moved to recycle bin and moved to a new folder or even copied.
Advanced Duplicates Finder 1.6 finds the duplicate files and does the search to the best possible extent according to the features chosen by you.