Friday, April 22nd, 2011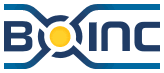 BOINC is an open source software platform to allow distributed computing projects like SETI@Home and Climateprediction.net (CPDN) which use volunteered computer resources to run. The publishers have simply developed a program that enables your computer do some other things instead of being left idle. In other words, there is no need to leave your computer idle when you are not doing anything on it.
BOINC for Windows 6 enables you to participate in several projects; ensuring that your computer is kept busy even when one project has no work. As a user, you can control how your resources (such as computer time and disk space) are divided among these projects. This is an excellent program that also enables you to use the idle time on your computer to cure diseases, study global warming, discover pulsars, as well as a couple of other things including research. As a matter of fact, there is no need to panic over the safety of your computer because this program is perfectly safe and secure to use.
Companies can use this software for Desktop Grid Computing; Universities can also find it useful in the area of creating a Virtual Campus Supercomputing Center, and many more.
Want to check it out? Visit Boinc.Berkeley.