Thursday, January 24th, 2013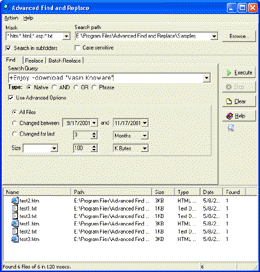 Searching out a file or document on a system can be a tough task sometimes. This could take a couple of minutes with the normal process or way of doing it through the standard application finder on Windows. However, you can save some of your precious time by installing Advanced Find And Replace application that enables you do just that within seconds.
What's Advanced Find and Replace?
Advanced Find And Replace is a program that lets you find documents on a local machine within a couple of seconds. You may also choose to specify normal AltaVista or Infoseek queries in order to find documents of your choice. Advanced Find And Replace represents a capable replacement of your standard find application in Windows. It not only saves you a lot of time, but also helps you save a lot of money that would have been spent mining information from your local machine.
Advanced Find And Replace application has a lot of advanced features that include the following; search files with smart queries just like you do with Google and other search engines, complete search and replace Microsoft Office Word, Excel and PowerPoint files, preview found text as with Google, fast, and many more.
Any downsides?
Version 7.8.1 already includes a couple of fixes and corrections that affected its compatibility with Windows 8.
Want to check it out? Visit Abacre.