Thursday, October 24th, 2013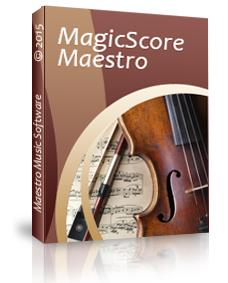 Looking for musical software that works both for amateurs and professional people? Do you love music, but don't want a program that is too complicated? I suggest you read this review to find out more about MagicScore Maestro.
What's MagicScore Maestro?
MagicScore Maestro is wonderful music notation software. It is the best choice for music lovers, people who professionally work with music or those who try to reach new heights in it. Teachers, students, musicians of various religious groups, composers and performers use this software.
MagicScore Maestro is a program that offers great capabilities for creating compositions of any complexity, including polyphonic ones. Virtual piano, fingerboard, score entry from a MIDI-device, working with chords, extensive capabilities for editing and fine adjustment of phonation in your compositions – all of the above and many other features will help you in your creative work.
MagicScore Maestro 7.895 has a lot of new fixes and updates that include the following: improved dynamics; improved layout; new setup wizard; input from MIDI device is improved; and graphic output is improved.
Any downside?
Free version of MagicScore Maestro has a 30 day trial limitation. At $48.65, MagicScore Maestro is not a bad program considering its ease of use, and great features.
Want to check it out? Visit MusicalEditor