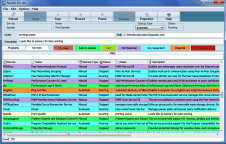 Having control over applications that load during startup can speed up the time it takes for your system to load. You can take control of which app should or should not load on startup and replace or delete Startup entries with a powerful software like StartEd. Truth is not every program on your system is useful, and one of the ways to get rid of them or disable them from startup is by using StartEd.
StartEd is a powerful program that gives you full control over the applications that launch at startup—including those hidden in the Registry. StartEd enables you to Add, Replace, or Delete the Startup entries of your Windows system without having to manually mess around in the Registry. It even recognizes Trojan Horses in your Startup. The software has a simple and friendly interface that's easy to navigate and figure out even without the expansive help file.
Current version of StartEd has some minor updates including: Windows 10 support; Service notes can now be edited; UI improvements; updated Trojan database; and updated Service database. The software identifies obsolete or memory hogs and deals with the issue.
StartEd is a very helpful program that is easy to use—but it is important to get used to how it works if you are trying it out for the first time.
Want to check it out? Visit Outertech.com.
Rating: