Wednesday, June 9th, 2010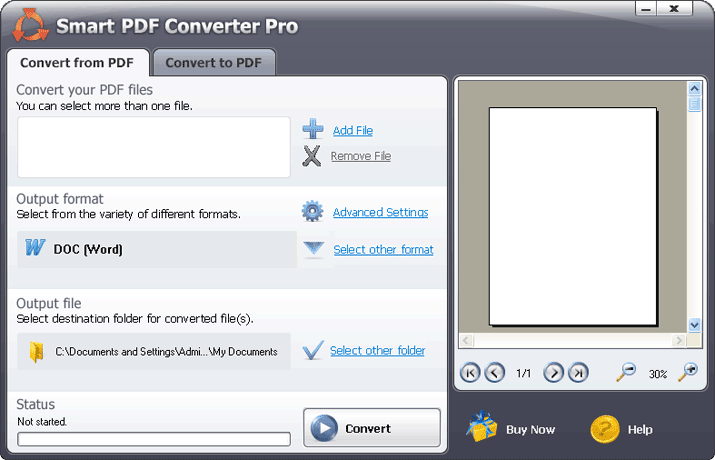 Many websites on the Internet utilize pdf files in displaying tutorials, e-books and other documents online. But in order to create content within your pdf files, you need an editor where you can write the content. If you're using MS Word, you need to convert your .doc to .pdf. To convert your .doc and other files to pdf, try Smart PDF Converter.
Smart PDF Converter offers features to convert different files like doc, xls, and html among others to pdf file. It seems to converts document faster than any other pdf converter programs available.
It's main window is very user friendly, as tasks are labeled according to functions, captions of the functions of each of the objects on the screen. The program is also easy to understand and use, as large icons are used to emphasize each task and short tips and tutorials are available within the screen. It doesn't even take you a minute to convert a file to pdf.
It supports conversion not only of documents, but also spreadsheets files (xls), picture files (jpeg, gif, png, and tiff) and other source files like HTML and notepad's txt files. It produces high quality pdf file output, perfect for your needs whether you use it on your website or upload it to the Internet. Also when converting pictures, you have the option to fine-tune the photo output quality simply by using a slide bar.
Aside from converting different files to pdf, the program also has the feature to convert pdf files to word document, excel spreadsheet, jpeg, tiff and HTML. It also give you the option on what the output looks like through the advanced setting menu.
Other features include installation of add-Ins into Microsoft Word that allows you to open pdf file in Microsoft Word. You can now edit your pdf file as if it's an original word document. There's also a Virtual PDF printer that supports printing and the program allows you to password protect your pdf files to ensure that you're the only one that has the authority to edit your pdf files.
Smart PDF Converter is perfect for users who maintain a website that contains pdf files like a free tutorial site. The program provides a fast way to convert files to pdf and vice versa without sacrificing output quality.
You can download or purchase the product at SmartPDFConverter.com