Wednesday, October 29th, 2014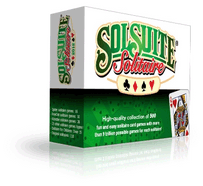 With a collection of so many popular solitaire games all in a single program, called SolSuite, you can access your favorite games including Gold, Monte Carlo, Forty Thieves, Spider, Klondike, FreeCell, Pyramid, and a host of others.
What is SolSuite?
SolSuite is a high-quality collection of 500 solitaire games. All your favourite games are implemented: Spider, Klondike, FreeCell, Pyramid, Golf, Busy Aces, Canfield, Forty Thieves, Four Seasons, Carpet, Flower Garden, Rouge et Noir, Monte Carlo and original solitaires that you cannot find elsewhere.
SolSuite features hundreds of games that you can choose from including a dazzling selection of card faces & backs, large card sets for ease of viewing, ribbon interface for enhanced gameplay, skins to customize your playing area and fast, courteous support.
For avid solitaire fans, this is one huge collection to keep you busy. The collection is addictive, and keeps you busy with a lot to do. The fact that you can choose from a number of exciting games is something to attract anyone to SolSuite.
Does it have any downside?
It is a collection of highly addictive games. Besides, most of the games are repetitions, but that is not to take anything away from SolSuite.
Want to check it out? Visit SolSuite.com.