Wednesday, May 18th, 2016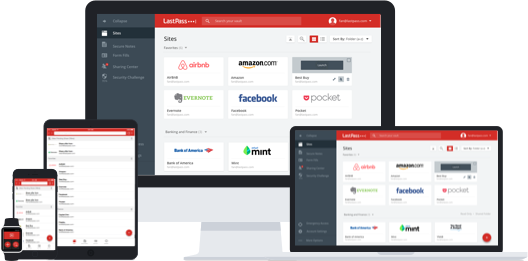 A lot of people still use the same password for multiple websites, this is highly insecure, because if someone guesses or finds out your password, they also have access to all those sites you use it on.
But who wants to remember a whole bunch of passwords?
LastPass gives you the opportunity to make a master password for all applications and websites, your actual passwords are totally encrypted and nobody can decrypt them. This software captures your username and password upon sign-up or login and uses them later when you come back to the place you previously visited.
When you try to create a new password, LastPass gives you the opportunity to generate a strong password that is a combination of numbers, and small and capital letters.  In the browser's toolbar you can automatically access different saved websites and you'll be logged in straight away.
The software has two versions – free and paid. The one that you pay for hides all kinds of advertising, giving you a lot of space. This password manager will eliminate all duplicated and weak passwords that you possess, giving a lower chance for hackers to get to your information.
LastPass for applications captures and replays your passwords. This is a premium feature for paid users. You have to set up a strong master password, because anyone who has it can control everything that you have. If this password isn't that strong, then you can also add multi-factor authentication.
The free edition of this software uses Google Authenticator. Thanks to this extra layer of authentication, only those who have your master password and smartphone can hack into your belongings. With the premium edition of the software, you can put a fingerprint authentication if your smartphone or laptop has this feature built-in. To make things impossible for hackers you can add an extra layer known as Yubikey. This is a tiny $25 USB that you can carry on your keychain. Once you associate it with the application, login will require both master password and this small device. If you don't want to spend money on USB, there is an app called Sesame that you can put on any USB drive.
Check it out at the homepage LastPass.